Using Simple Technology to Make a Significant Impact.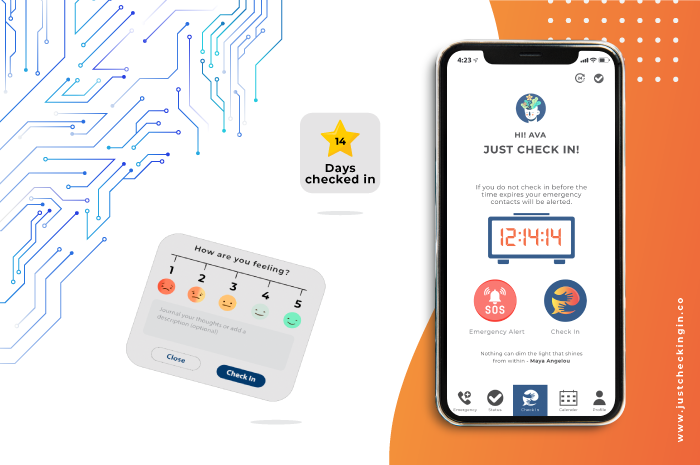 Can you think back to a time when you were sitting alone at home, and you looked down at your phone to see a text message from a loved one? The text read, "Hi, just checking in. Is everything okay?" Do you remember how good that felt to feel thought of and cared for? It didn't have to be the world's most exciting conversation or thought-provoking question; it was just simple, and it meant the world to you.

The truth is we are an overworked society. We're either overscheduled or continually wishing there were more hours in a day, and we can't always find the time to reach out to the people we love, whether it's a phone call, video chat, or text message. Even if we are always thinking of our loved ones, sometimes we plain forget. Sometimes we forget, too, to let them know that we're okay. Whatever the reason may be, our forgetfulness or busyness can come at the price of leaving someone we care about to feel all alone. It can cause those who care about us to worry, even if we are completely fine.

The wonderful thing about technology is we always have it at our fingertips to use for updates like this, and for what truly matters in life. Sometimes we have the best intentions to schedule that phone call or set up that FaceTime chat, but soon realize that we can't make that kind of time investment, and so we put it off for another day. But there may come a day when another day may be too late. Whether we have grandparents or a friend who has a mental illness, everyone, including yourself, could use some checking in on.

So, if you've ever wished there were a simple button you could press to let your family and friends know you're thinking of them, before your thoughts or your hours get away from you, Just Checking In has you covered. If you haven't marked yourself as "safe" within a 24-hour time frame, Just Checking In app will send a text to your 3 emergency contacts, just in case. We also send you three notifications daily as a reminder for you to check in with them. Maybe you don't feel like you need this or like you're fine on your own, but consider that time you got that text when you were alone. "Hi, just checking in. Is everything okay?". Consider what that could mean for someone else who needs it the most.

At Just Checking In, we envision a world where no one feels alone. Where close bonds are forged between family and friends, where those living alone can always feel safe, where everyone can have peace of mind, and those suffering from mental health are always supported. Our mission is to provide support for your loved ones by simply…Just Checking In.

We offer a fully functional 14-day trial:
Set & edit your daily check-in time
Receive 3 daily notification reminders to check in
Add 3 emergency contacts
Emergency help button that instantly messages emergency contacts to check on you
Share check-in status with top 5 family & friends to see if you checked in that day
Share Us With Your Family And Friends

Remember, Please Just Check In!